If you happen to be in NYC for Thanksgiving – get into the spirit of Thanksgiving and have yourself a delicious meal at some of the best eateries in the city.
The best luxury hotel Thanksgiving experience
It's not easy finding a gourmet buffet brunch in NYC but if you know your food and you love it gourmet – you really must make a trip to the iconic Waldolf Astoria. The amazingly decadent Sunday Brunch is one of the country's best with the classic Waldorf Salad, red velvet cake and other hot and cold dishes to mix and match with the raw bar full of fresh New England produce
The Sunday Brunch is also available for Christmas and New York, offering more than just a place to eat delicious food but to also get some Christmas cheer with the legendary festive decor
Waldorf Astoria
Sunday Brunch at Peakcock Alley
The best Meat-fest Thanksgiving dinner
Open on Thanksgiving Day, this really is a place for locals whom haven't gone home or tourists looking for delicious food with all the American trimmings
The menu is prix-fix to make your life easier and includes Fall flavours like Chestnut soup and pumpkin pie – and of course Turkey, turkey, turkey!
Bowery Meat Company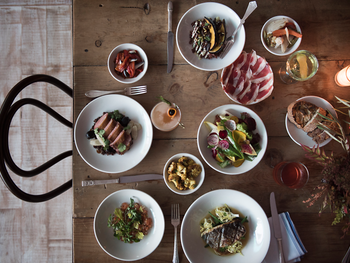 The best place for a Frenchy-Thanksgiving experience
If you want something a little more interesting and chic for Thanksgiving – head straight to Cassette.
Rustic, French-Catalonian food is on the menu with lots of options for vegetarians, but the charcuterie board is one of the best in the area and should be enjoyed by those not restricted to a NYC diet.
There's turkey, cranberry sauce and oh… Brussels sprouts with lots of sage stuffing – why not indulge over the holidays
Menu starts at $45 which is less than buying an organic turkey in NYC
Cassette 
Located in Brookyln – stay out of the city and eat Thanksgiving like a boss
The best Italian-Thanksgiving experience
You're not a New Yorker if you don't eat Italian when you visit. Instead of eating another cheap and greasy – but oh so delicious slice of pizza, head straight to Casa Lever for a very classy Thanksgiving dinner with a New York vibe.
Almost like stepping into old-school New York, you are treated like royalty at Casa Lever – the attentive service and delicious food outside of Thanksgiving season is really a great experience for all.
The Thanksgiving dinner is a la carte for those that don't want to fill up but want to still enjoy all the Fall flavours this city has to offer.
The butternut squash soup is to die for but the pork belly is deliciously worth every bite
Casa Lever NYC
A la carte menu for Thanksgiving